HDMI (High-Definition Multimedia Interface) is a widely used audio/video interface that allows for the transmission of high-quality digital signals between various devices. Understanding the pinout diagram of an HDMI cable is essential for proper connections and troubleshooting. In this article, we will provide a comprehensive overview of the HDMI pinout diagram, explaining the purpose and function of each pin, and how they contribute to the transmission of audio and video signals.
HDMI Standard Connectors:
HDMI connectors come in three different sizes: Standard HDMI, Mini HDMI, and Micro HDMI. While the pin configuration is the same for all three, the size of the connector differs. Here, we will focus on the pinout diagram of the Standard HDMI connector.
HDMI Pinout Diagram:
Pin 1: TMDS Data 2+
Pin 2: TMDS Data 2 Shield
Pin 3: TMDS Data 2-
Pin 4: TMDS Data 1+
Pin 5: TMDS Data 1 Shield
Pin 6: TMDS Data 1-
Pin 7: TMDS Data 0+
Pin 8: TMDS Data 0 Shield
Pin 9: TMDS Data 0-
Pin 10: TMDS Clock+
Pin 11: TMDS Clock Shield
Pin 12: TMDS Clock-
Pin 13: CEC (Consumer Electronics Control)
Pin 14: Reserved (formerly Audio Data)
Pin 15: SCL (I²C Clock for DDC)
Pin 16: SDA (I²C Data for DDC)
Pin 17: DDC/CEC Ground
Pin 18: +5V (Power)
Pin 19: Hot Plug Detect
Pin 20: TMDS Ground
Explanation of HDMI Pins: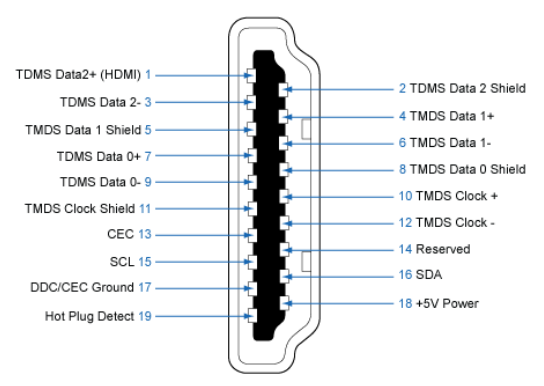 TMDS (Transition-Minimized Differential Signaling) Data:

Pins 1, 3, 4, 6, 7, 9: These pins carry the digital video and audio signals.

TMDS Clock:

Pins 10, 12: These pins transmit the clock signal, synchronizing the data transmission.

CEC (Consumer Electronics Control):

Pin 13: CEC allows for control signals to be sent between devices connected via HDMI.

Audio Data (formerly):

Pin 14: This pin was previously used for transmitting audio signals but is now reserved.

DDC (Display Data Channel):

Pins 15, 16, 17: DDC is responsible for transmitting communication signals between the source device and the display device, allowing for EDID (Extended Display Identification Data) exchange.

Power and Ground:

Pin 18: +5V provides power to connected devices.
Pin 20: Ground for the HDMI interface.

Hot Plug Detect:

Pin 19: Detects when an HDMI cable is connected or disconnected.
Conclusion:
Understanding the pinout diagram of an HDMI cable is crucial for correctly connecting audio and video devices. Each pin has a specific function, from transmitting data signals to providing power and control. By referring to the HDMI pinout diagram, users can troubleshoot connection issues, ensure proper setup, and make the most of the high-quality audio and video capabilities offered by HDMI technology.