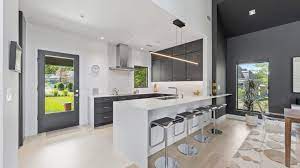 The kitchen is often considered the heart of the home, where meals are prepared, memories are made, and families gather. If you're looking to transform your kitchen into a more functional, stylish, and efficient space, a kitchen remodeling project can bring your vision to life. Embarking on the ultimate kitchen remodeling journey requires careful planning, decision-making, and execution. In this article, we will guide you through the essential steps to achieve your dream kitchen.
Define Your Goals
Before diving into the remodeling process, take the time to define your goals for the project. Consider your lifestyle, needs, and preferences. Are you looking for a more open layout? Do you want to upgrade your appliances? Are you seeking additional storage space? Understanding your objectives will help you make informed decisions throughout the remodeling journey.
Set a Budget
Establishing a realistic budget is crucial for any remodeling project. Determine how much you are willing to invest in your kitchen renovation and allocate funds for different elements such as cabinets, countertops, appliances, flooring, and labor. It's important to leave some room for unexpected expenses that may arise during the process.
Research and Inspiration
Explore various sources of inspiration to gather ideas for your new kitchen. Browse home improvement magazines, websites, and social media platforms to find images and styles that resonate with your vision. Create a mood board or digital collage to organize your ideas and convey them to your contractor or designer.
Find a Professional
Unless you're an experienced DIY enthusiast, hiring a professional contractor or designer is highly recommended for a kitchen remodel. Research local contractors, read reviews, and ask for referrals from friends and family. Look for professionals who specialize in kitchen renovations and have a portfolio of successful projects. Request quotes and schedule consultations to find the right fit for your needs.
Design and Layout
Collaborate with your chosen professional to create a functional and aesthetically pleasing kitchen design. Consider the existing layout and identify opportunities for improvement. Discuss the placement of appliances, storage solutions, and any structural changes that may be required. Your designer will help you choose materials, colors, and finishes that align with your style and budget.
Selecting Materials and Finishes
Carefully select the materials and finishes that will bring your kitchen vision to life. From countertops and backsplashes to flooring and cabinetry, each element plays a crucial role in the overall look and functionality of your kitchen. Consider factors like durability, maintenance, and the harmony of different materials to make informed decisions.
Construction and Installation
Once the design and materials are finalized, construction can begin. Your contractor will handle the demolition, installation, and coordination of different tradespeople such as plumbers and electricians. Regular communication with your contractor is key during this phase to ensure that the project stays on track and any unforeseen issues are addressed promptly.
Finishing Touches
As the construction phase nears completion, it's time to focus on the finishing touches. Install lighting fixtures, choose window treatments, and add personal touches like artwork and accessories. Pay attention to details that enhance the ambiance and functionality of your kitchen, such as storage organizers, a well-placed island, or a stylish range hood.
Final Inspection and Enjoyment
Before declaring your kitchen remodel complete, schedule a final inspection with your contractor to address any remaining items or touch-ups. Once everything meets your satisfaction, it's time to enjoy your new kitchen. Host gatherings, create delicious meals, and revel in the beauty and functionality of your transformed space.
Conclusion
Undertaking a kitchen remodeling in Los Angeles requires careful consideration of the city's unique style, trends, and lifestyle. By defining your goals, setting a realistic budget, and collaborating with professionals familiar with the city, you can create a kitchen that embodies the spirit of Los Angeles. Incorporate local elements, embrace sustainable practices, and personalize your space to make it a reflection of your style and the vibrant energy of the city. As you embark on your ultimate kitchen remodeling journey in Los Angeles, remember to enjoy the process and the end result, knowing that you have created a space that harmonizes functionality, aesthetics, and the essence of Los Angeles.